High School Underclassman: Prepare To Be Accepted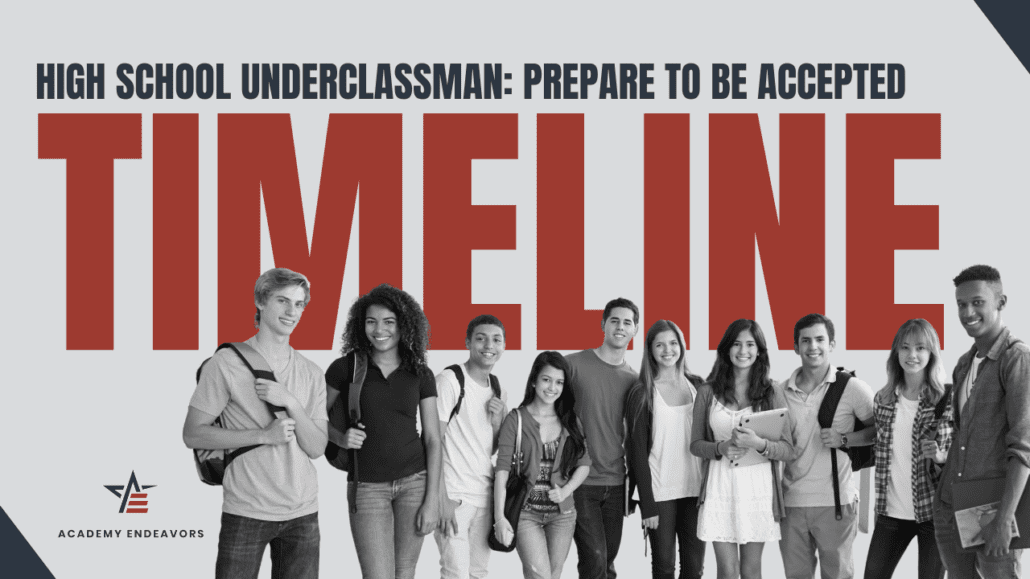 You guys are in the trenches. It's early, so you think, but your Academy applications are actually right around the corner.
The One Thing We Want You To Remember
Make it count while you still have time. Use your time strategically to maximize your chances. This is where you win.
We are excited to announce the launch of our Underclassman Program for freshmen and sophomores, where we will take 50 underclassmen through an in-depth assessment process, so YOU can get on track to getting into an Academy.
Timeline Of What You Should Expect
Here's a very simplified version of the entire application process for Academies, Nominations, and ROTC, all in one picture.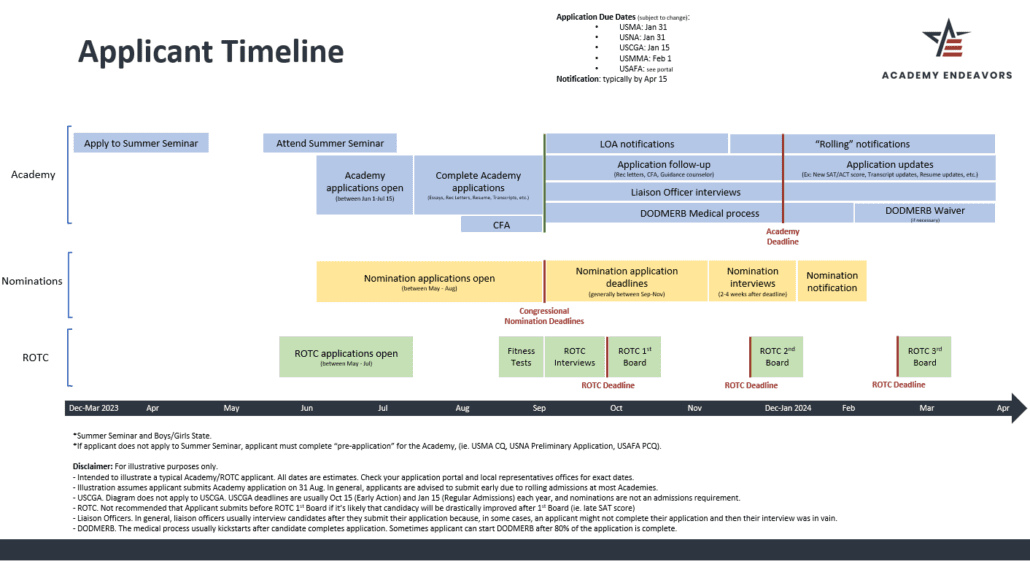 On the left hand side, you'll see Academies on top, Nominations in the middle, and ROTCs at the bottom. We wanted to put these three buckets together in one slide because applicants have different deadlines for each of these three categories.
Deadlines. The red lines are the typical deadlines for Academy, Congressional and ROTC applications. The exact dates for each Academy are at the top.
Beginning. At the beginning of 2nd semester junior year, summer seminar applications will open up, and they will occur during summer going into senior year of high school.
Real Applications. The real applications open over the summer, as shown.
What To expect On Academy Applications
As you can see, most of the requirements converge in the fall, so expect the fall of your Senior year will be the busiest time of your life. The most challenging aspect of this Academy application process is the number of competing requirements during the fall of senior year. Your Congressman and Senator application processes are going on at the same time as your Academy, ROTC, and college early action applications. Meanwhile, you are team captain of your varsity sports team, taking five AP classes, and are President of 1-2 clubs. How do you keep it all straight? The answer is, you can't. You must get your Academy, Nomination, and ROTC applications done before senior year starts. The sweet thing about the August 31st deadline is it gives you peace of mind for your senior year; meanwhile, it increases your chances of success for Academy admissions. Double win!
Why Is The Academy So Competitive?
Once you get through this complex process, the overwhelming part is you can jump through all these hoops and still not get in. The average college acceptance rate is around 60%, but the Academy acceptance rate is between 10-20%.
Why is it so low?
20% of appointments are taken by recruited athletes. The Academies have sports teams just like every other college. But what is unique about the Academies is the large number of sports teams for such a small enrollment. For example, USAFA has 27 Division I sports teams. Compare this with a large state school like University of North Carolina Chapel Hill, which has five times bigger enrollment than USAFA, yet has the same number of teams! Each class of 1,200 roughly will have approximately 250 of them are recruited athletes. That makes the available appointments much smaller.
About 10% of appointments are taken by enlisted and prep schools. The Academies allow enlisted members to apply, and they also hold a certain number of appointments for those coming from their prep schools or sponsored by their foundations. If you are a high school senior and want to get in directly to an Academy, the door just got narrower.
#1 district. They are federally mandated to offer one appointment to each district in the US that has a qualifying applicant. Since there are 435 applicants, that could be another 435 slots off the table if you don't "win your district."
What Should You Do Now As A Freshman or Sophomore?
Freshman
What should you be doing now, as a Freshman, to prepare to apply to the Academies? As a Freshman in high school, we encourage you to focus your time on the following areas:
1. Excel in challenging courses. Here's the reality; your entire high school transcript will be analyzed. Its your cumulative GPA, not just one semester. So, as soon as high school starts, it's game on! Get in advanced classes (AP, Hon, IB, DE) as soon as possible. And get on track where you are completing these 5 classes in as advanced level as possible: Chem, Physics, Bio, Pre-Calc, and Calc by senior year.
2. Get involved in clubs and/or community orgs. If you don't get involved as a youngster, how will you be able to lead when you're a Jr/Sr? You won't. When you apply, the Academies take all your activities and quantify your activities/awards and leadership positions based on impact. The more selective and recognizable the activity, the better. So, step 1: get involved! Try stuff out!
3. Athletics. Each Academy quantifies your athletic activities score by taking your years of varsity letters x your years of varsity team captains x your years of special honors/awards, and adding it up in a proprietary formula. Working backward, this means your freshman year is critical to getting involved in sports so you can get started on the varsity team captain path. Even if you consider yourself "unathletic," get after it and don't let fear of failure hold you back. A big goose egg in varsity athletics is incredibly difficult to overcome.
4. SAT/ACT. Prep for the standardized tests should start as early as summer going into sophomore year. Yes, it should be that early. Why? Because the Academy application scoring system equates SAT/ACT as more points than even your HS transcript. Repeat: 4 hours of test performance matters more than 4 years of hard work! So, we like to say: take it early, take it often, take it serious. You will thank yourself for it.
Sophomore
1. SAT/ACT Prep. Most colleges don't even require the SAT/ACT. But with the Academies, the SAT/ACT is mandatory. Start prep as early as summer going into sophomore year. Why start so early?
First, because most high school students don't have all the requirements that Academies have. You want to start early so you can get the SAT/ACT behind you so you can focus on the rest of it.
Second, Academies superscore and only look at your highest scores. You do yourself no harm by taking it early and often
Lastly, Academies' average SAT/ACT is approx 1350/31. So, set a goal of 1400+/32+ so you ensure you are above the mean!
2. Choose your leadership path. Once you've jumped in and got involved in several areas as a freshman, the next step is to focus on those activities that will yield the leadership positions that you want to be involved in. Put all your activities into a matrix, and evaluate each one based on 4 measures:
Your passion.
Second, proficiency.
Third, the likelihood of gaining leadership positions.
Fourth, what will be most impressive to Academies, measuring by how selective and recognizable the activities are.
Consider these 4 measures, and then choose your leadership path accordingly. The goal is to have 4+ leadership positions (captain, president, etc.) by end of junior year so your resume is ready when the applications open.
Common Pitfalls
| | |
| --- | --- |
| Problems | Solutions |
| #1 Don't know if they're on track. -they have a overconfident view of their candidacy because they don't know how competitive it really is-OR they have an underconfident view of their candidacy and are ruling themselves out or even giving up because they don't know how close to the mark they could be with a little bit of help | In our Underclassman program, we do a 360Assessment on you, comparing you to the typical Academy admit, so you clearly know your strengths and weaknesses, where you on track and where you are not. |
| #2 Aren't clear on where they need to go | In our Underclassman program, we create a 360Transformation plan for you, so you have personalized action steps with milestones, so you can track your progress as you go. |
| #3 Waste time and energy on the wrong things Usually because of anxiety, they run around generating hours of community service because they are desperate for the edge when they could have been doing something better with their precious time. | Our Underclassman program we analyze all your activities, and discuss at length where you should be focusing your time to give you the best return on investment (Ldrshp Tab / Time tab) |
| #4 Procrastinate in taking the 1st step (fitness, SAT, getting medical records, etc) | In our Underclassman Program, we have a structured program that lays out clear next steps |
| #5 General advice that doesn't apply to them | Everything is Personalized 360Assess/360Transform |
| #6 Don't know what to do by when | 360Transform has milestones |
Again, We Want You To Remember
Make it count while you still have time. Use your time strategically to maximize your chances. This is where you win.
Your Next Steps to Ensure You Win
Find a mentor who will walk through this process closely with you. No one gets into the Academy on their own. You won't be the first. Whether it's a superstar parent, liaison officer that goes above and beyond, or Academy Endeavors, every admit has a story about those who helped them as they were overwhelmed. To avoid the common mistakes most applicants make, you will need help. The truth is, there's one hundred other unexpected things that will pop up over the next 17 months, and this is on top of your school work, sports, and extracurricular activities. The stakes are high. One misstep could sacrifice your future.
Sign up now for FREE Academy Endeavors 1-on-1 for you and your parent: https://academyendeavors.com/apply-now/
Still on the fence? Here is a testimonial video from a parent of a successful Pro Program client! https://www.loom.com/share/379068aad8fa43f286807b4cff764eb3
https://academyendeavors.com/wp-content/uploads/TIMELINE-1-e1684262981283.png
281
500
Academy Endeavors Support
https://academyendeavors.com/wp-content/uploads/Academy-Endeavors-Header-Logo-2.svg
Academy Endeavors Support
2023-05-16 14:50:57
2023-05-16 14:50:59
High School Underclassman: Prepare To Be Accepted